INTEGRAL BREADS FOR HAMBURGERS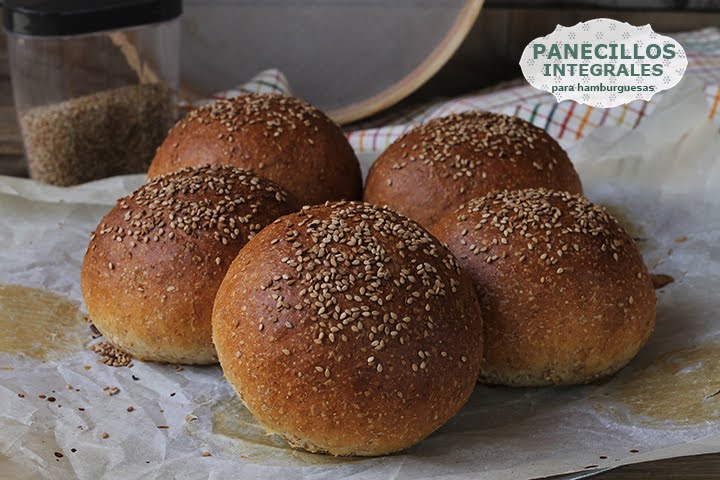 How many recipes would I like for you to stay here in this blog and that can not be as I would like. The other day my nieces asked for some homemade hamburgers, and the first thing I did was these delicious rolls. One of them is vegetarian and I made some chickpea burgers that I would like to show you and the other I made them of meat and I would also like you to see them. They wanted them for dinner and no longer had light to take a picture with everything mounted. Sorry, again it will be, I got 5 muffins and ate two mega hamburgers with lettuce tomato cheese until I hallucinated when I saw them haha ​​...
INGREDIENTS:
140 g flour good quality wholegrain
280 g of strength flour
15 g of fresh baker's yeast
2 teaspoons of the sugar dessert
10 g of fine salt
2 tablespoons of olive oil
110 ml of milk at room temperature
110 ml of warm water
Sesame seeds to sprinkle
PREPARATION:
In a bowl mix the two flours and the salt.
Dilute the yeast in warm water and put it in the bucket of the bakery, add milk, oil and sugar. Dump the flours over and program the program that only kneads in mine number 7 and lasts 15 minutes. As the program progresses, go looking at the dough, I had to put a little more water in mine. Flours absorb differently and I may need a little more or less liquid.
Once the program is finished, remove the dough from the bucket, with your hands greased in a little oil so that the dough does not stick to your hands, anyway it is a soft dough but it Handles perfectly without sticking too much to your hands.
Make a ball with it and put it inside a bowl also greased with a little oil. Cover the dough with clear film and then with a clean dishcloth. Put the bowl in a warm place and free of currents. Let it rise until it has doubled in volume, about an hour.
Take out the dough from the bowl and cut it into pieces of about 150 g. Take a piece of dough and go sending it in then make a ball with it. Put it on a tray covered with baking paper, do this until you finish them. Cover them with a clean cloth and let stand for half an hour again.
Preheat the oven to 200º. Put inside a cup of clay or a small pot that can go to the oven to steam.
Paint the buns with some milk and decorate them with the sesame seeds. Bake until they have a nice golden color, about half an hour. Remove them and let them cool on a rack, then you can make some good burgers.